Overview of frequently used intakes
Claw
Side rollers
Top roller
Forklift
Passive (pneumatics)
Best Building practices (general)
bearings

screw joints

Types of nuts

Nylocks are heavier, but have much greater grip. They likely will not significantly loosen even after extensive use. Additionally, not tightening them (and allowing the screw to spin freely) is perfect for rotating joints.
Keps are lighter and are the quickest to use. Their teeth help maintain its position when tightened, but not as much as nylocks and cannot be rotated once tightened. Perfect for prototyping or securing less vital structure.
Plain nuts are the lightest and are used mostly on parts with places for the nuts designed onto them, such as the clamping shaft collar or V2 rack gears.

basic gear ratios

Builders can trade motor speed for motor torque (and vice versa) by using a system of gears to change the speed of the output shaft.
gears have a set number of teeth, and when gears mesh, the output gear rotates however many teeth the input rotated, not the number of rotations the shaft went through. Builders can use this to their advantage so that the output gear rotates faster, but with less torque (larger gear -> smaller gear), or slower but with increased torque (smaller gear -> larger gear).
If gear sizes become too extreme, more advanced builders may use compound gearing to exponentially modify their gear ratios. This is done by having the output shaft from previous gearing become the input shaft for more gearing with different gear sizes.

no cantilevered drive wheels

As a general rule, for anything on a shaft other than shaft collars and washers, the shaft should be secured to structure on both sides of whatever it is supporting.
Not doing this results in the shaft having a lot of wiggle room, as typically seen when wheels are exposed on the outside of a robot.

spacers, standoffs mounting

use all omni drive base with 4 motors
VEX Build Quality Tutorial/Instruction video:

V5 Architecture and Troubleshooting
V5 architecture diagram (may need to move to advanced topics): The PROS of PROS
V5 Troubleshooting:
V5 mini USB Port / use magnetic cable
V5 Motor inserts / be careful
V5 ports and static
Make sure you have installed the latest VexOS firmware which could be found here:

Make sure that radio type is to VEXnet and not Bluetooth:

run your program. press the button on the V5 brain to toggle between the user program screen and the vexos screen.
Tips on how competition works
To be expanded:
Qualifications
Scouting
Alliance selection
BO1
Skills
Judging
Who qualifies
Beyond the competition
What else is there in VRC beyond going to competitions?
School based vs independent team / fundraising
TBD
Tips for organizing the team
Tools
Sort tools in order of importance…
Add pictures?
wrenches 1/4, 11/32
screwdrivers hex (5/64,3/32), star (T?)
pliers, needlenose pliers, diagonal cutters, etc…
tabletop grinder
dremel
Custom Tools:
…
Tips:
Don't strip screw heads - sharpen Hex screwdrivers regularly!
…
Safety considerations:
Wear goggles!!!
…
Color coding screwdrivres and wrenches:

Special tools

Insert puller:

Drilling template:

Bearing cutting template:
Reserved for all Omni tank drive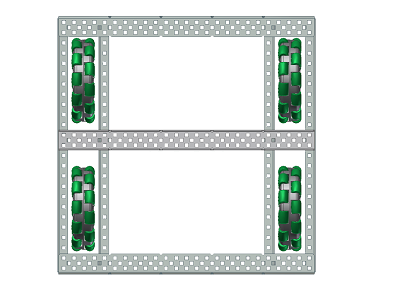 Reserved for X-Drive wiki entry

Reserved for H-Drive wiki entry