Tips on how competition works
To be expanded:
Qualifications
Scouting:
At tournaments, there are various ways of scouting that can be done to improve your chances of doing well. They are as follows:
• Match scouting: Before each qualification match, it is extremely important that you go and talk to your alliance partner, to coordinate autonomous programs, match strategies, and any other miscellaneous aspects to the upcoming match. This will also tie in with the second way if scouting.
• General tournament scouting: Throughout s tournament, it is helpful to take notes on each team/robot in attendance. Whether it be a quick robot summary, or detailed notes on the successes and weak points of each mechanism, doing so will allow you to be better prepared for your matches. This ties in to the 1st way of scouting, as you should be taking down notes on your alliance partners and opponents after every match.
When it comes time for alliance selection, having notes and scouting data is extremely helpful when deciding on who to pick for the elimination bracket. They will also help you to find any "hidden gems" that might be a better pick than some of the higher ranked robots. Scouting will also prepare you if a team decides to use the "scorched earth" strategy (go down the line of teams and ask each one until one accepts) to mess up any potential powerhouse alliances.
Alliance selection
BO1
Skills
Judging
Who qualifies
Beyond the competition
What else is there in VRC beyond going to competitions?
School based vs independent team / fundraising
TBD
Tips for organizing the team
Tools
Sort tools in order of importance…
Add pictures?
wrenches 1/4, 11/32
screwdrivers hex (5/64,3/32), star (T?)
pliers, needlenose pliers, diagonal cutters, etc…
tabletop grinder
dremel
Custom Tools:
…
Tips:
Don't strip screw heads - sharpen Hex screwdrivers regularly!
…
Safety considerations:
Wear goggles!!!
…
Color coding screwdrivres and wrenches:

Special tools

Insert puller:

Drilling template:

Bearing cutting template:
Reserved for all Omni tank drive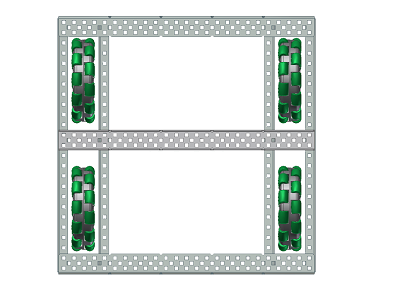 Reserved for X-Drive wiki entry

Reserved for H-Drive wiki entry
Reserved for Mecanum wheels drivetrain wiki entry
Code examples:
A Holonomic drive is free to move in any direction without having to rotate around its axis.
https://en.wikipedia.org/wiki/Holonomic_(robotics)
One form consists of 3 or 4 omniwheels mounted at angles to each other. It is good for lateral movement, and increases speed and power of turns. However, linear drive speed and power are decreased since some or all of the powered wheels run at angles to the bot's motion. All wheels must be omni wheels in order for this drive to function. The 4-wheel version is referred to as " X-Drive".
Another omniwheel Holonomic drive is the "H-Drive", where 1 omniwheel is placed at right angles to the other four conventionally mounted omniwheels.
Mecanum drive is holonomic drive where four mechanum wheels are placed in a tank drive format. The wheels should look like this when looking from top:


Like all holonomic drives, mechanum bots can strafe, and does so with a simple rectangular base. However, mechanum wheels have rollers that slip, reducing traction and pushing power.
Reserved for additional drivetrain discussion entry
Are tracked vehicles viable in Vex?
Reserved for additional drivetrain discussion entry 1
Reserved for additional drivetrain discussion entry 2
Reserved for additional drivetrain discussion entry 3
Reserved for discussion of the Claw (intake)
Reserved for Side Rollers wiki entry