Reserved for all Omni tank drive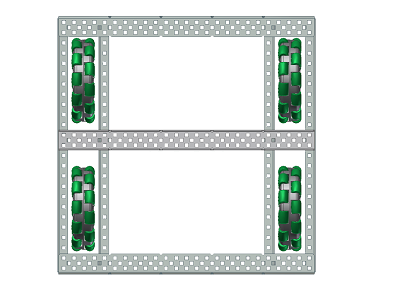 Reserved for X-Drive wiki entry

Reserved for H-Drive wiki entry
Reserved for Mecanum wheels drivetrain wiki entry
Code examples:
A Holonomic drive is free to move in any direction without having to rotate around its axis.
https://en.wikipedia.org/wiki/Holonomic_(robotics)
One form consists of 3 or 4 omniwheels mounted at angles to each other. It is good for lateral movement, and increases speed and power of turns. However, linear drive speed and power are decreased since some or all of the powered wheels run at angles to the bot's motion. All wheels must be omni wheels in order for this drive to function. The 4-wheel version is referred to as " X-Drive".
Another omniwheel Holonomic drive is the "H-Drive", where 1 omniwheel is placed at right angles to the other four conventionally mounted omniwheels.
Mecanum drive is holonomic drive where four mechanum wheels are placed in a tank drive format. The wheels should look like this when looking from top:


Like all holonomic drives, mechanum bots can strafe, and does so with a simple rectangular base. However, mechanum wheels have rollers that slip, reducing traction and pushing power.
Reserved for additional drivetrain discussion entry
Are tracked vehicles viable in Vex?
Reserved for additional drivetrain discussion entry 1
Reserved for additional drivetrain discussion entry 2
Reserved for additional drivetrain discussion entry 3
Reserved for discussion of the Claw (intake)
Reserved for Side Rollers wiki entry
Reserved for (ball) Puncher wiki entry
See also: slip gears
Advanced topic: adjustable angle punchers
Reserved for additional exotic game object launcher mechanism 1
Reserved for additional exotic game object launcher mechanism 2