Our Vex Robotics team has competed for two years. Now we are done with our Vex Robotics season and we have no plan to compete anymore. Therefore, many pieces and parts in great condition are sitting in storage, unused. I am trying to sell electronic parts like motors, wires, batteries, sensors, controllers, etc. All parts are in great condition and were only used for one to two seasons. Some parts were bought in 2017 and others in 2018.
A description will added to specific items (measurements, sizes, etc.)
For example:
• (Name) (Price) (Amount)
• Potentiometer (2-pack) ($25.98) x2
Pictures and lists of all the items will be posted below.
I live near Central Massachusetts, so if you live near the New England area, you can pick up your purchase. If you live farther, I am still willing to ship it out to you, but I highly recommend you to pickup the boxes in person to make sure the items in the box are present and in good condition.
**Box: Electronics Set **
Original Price: $1,483.17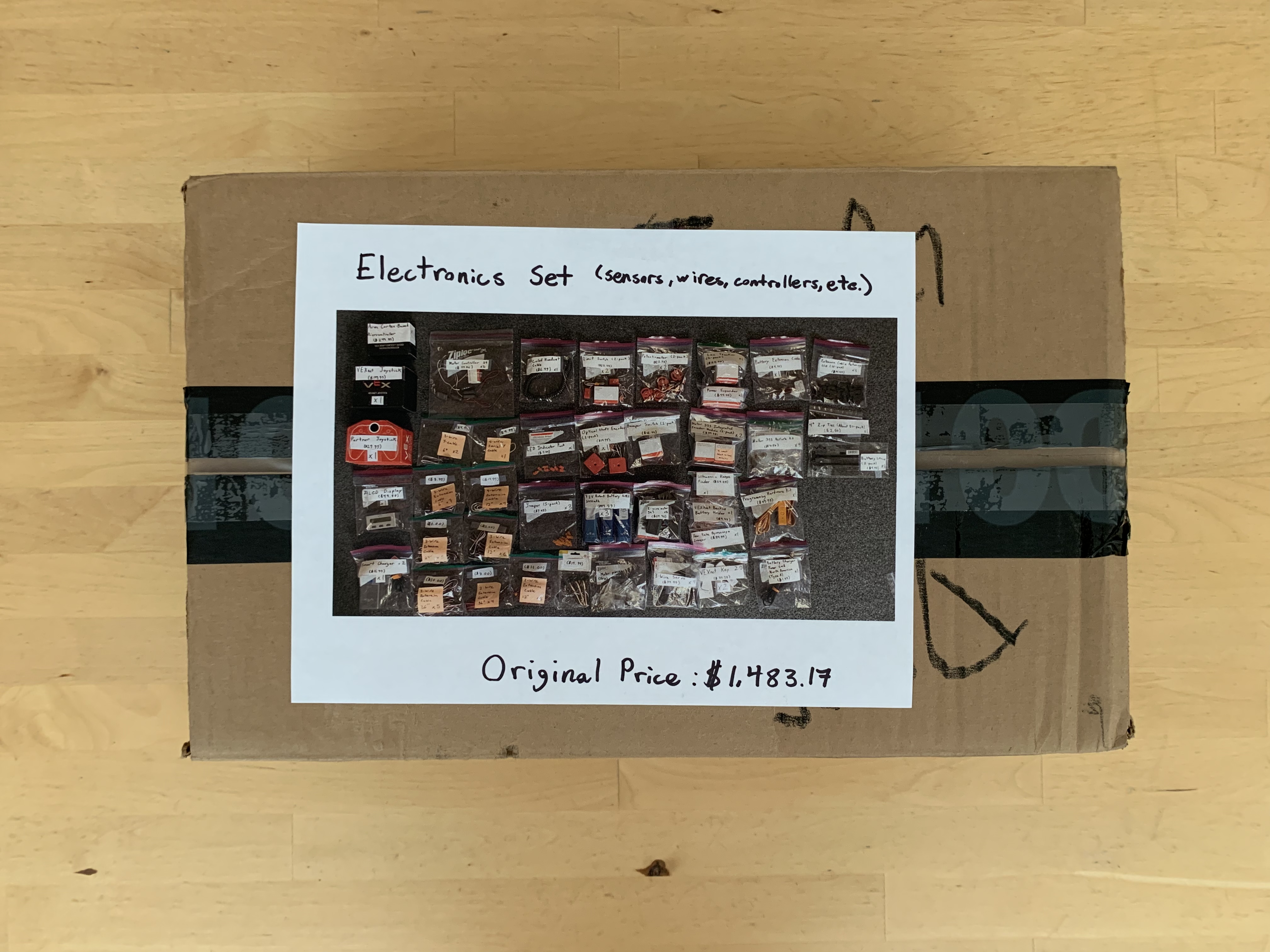 • VEX Arm Cortex-Based Microcontroller ($249.99) x1
• VEXnet Joystick ($149.99) x1
• Partner Joystick ($29.99) x1
• LCD Display ($49.99) x1
• Smart Charger v2 ($16.99) x1
• Coiled Handset Cable ($6.99) x1
• 7.2V Robot Battery NiMH 3000mAH ($89.97) x3
• Battery Charger Power Cord - North America (Type A) ($1.99) x1
• Battery Extension Cable ($4.99) x1
• VEXnet Backup Battery Holder ($9.99) x1
• Programming Hardware Kit ($49.99) x1
• VEXnet Key 2.0 ($79.98) x2
• LED Indicator Pack ($9.99) x1
• Jumper (5-pack) ($7.47) x3
• Extension Cable Retaining Clip (10-pack) ($14.97) x3
• 4" Zip Ties (About 50-pack) ($2.50) x1
• Battery Strap (2-pack) ($4.99) x1
• Limit Switch (2-pack) ($25.98) x2
• Optical Shaft Encoder (2-pack) ($19.99) x1
• Potentiometer (2-pack) ($25.98) x2
• Bumper Switch (2-pack) ($12.99) x1
• Line Tracker (3-pack) ($39.99) x1
• Power Expander ($49.99) x1
• Ultrasonic Range Finder ($29.99) x1
• Yaw Rate Gyroscope Sensor ($39.99) x1
• 2-Wire motor 393 ($119.92) x8
• Motor 393 Integrated Encoder Module (2-pack) ($59.98) x2 ( One is missing 4 small black screws)
• Motor 393 Refurb Kit ($19.96) x4
• 3-Wire Servo ($79.99) x4
• Motor Pieces (Free) x1
• Motor Controller 29 ($59.94) x6
• 4-Wire Serial Y Cable ($7.99) x1
• 4-Wire Extension Cable 12" ($19.99) x4
• 4-Wire Extension Cable 12" (4-pack) ($19.99) x1
• 3-Wire Y-Cable 6" ($4.99) x2
• 3-Wire Extension Cable 6" ($8.75) x7
• 3-Wire Extension Cable 12" ($12.00) x6
• 3-Wire Extension Cable 24" ($10.00) x5
• 3-Wire Extension Cable 36" ($10.00) x5
• 2-Wire Extension Cable 12" ($16.00) x8
• 2-Wire Extension Cable 36" (8.00) x4
PLUS
• VEXnet Joystick Power Adapter ($12.99) x1