@Sylvie getting his channel plugged in from left and right.
Sorry for disturbing thee
Joke's on me I haven't uploaded anything in 2 months.
More consistent upload schedule than most people.
My season starts later this month, so I should be posting at some point after that.
Coach: How did y'all build the robot in less than two days?
My team who drank an entire 24 pack of Soda:

Some context, there are 4 people on my team, including myself.
My guy, what happened here
Me who rebuilt the robot in 3.5 hours: "who needs soda?"
Little did the freshmen know…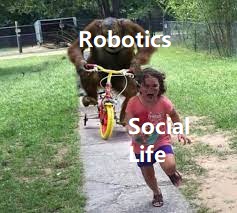 (Also, just gonna clarify, I am not gonna turn this into another version of Gru spam).
When you realize over half the people in your club are freshman:

A nice feature on chrome called inspect
No actually, and I would advise you to do a little research before making a statement like that.
@Murf was a frequent user of the forum back in the days of the old forum system. The forum software still tracks those posts as existing, but the the user statistics like read time are reset. They haven't claimed/linked their old account to a new one, so all the topic and post info appears on the profile information, but there's no registered read time or days visited, because the account has never been logged in to.
Ok, what was before discourse?
Taran, I think your explanation is too technically boringly accurate.
Here is how I think it really went down:
A young and inexperienced lad joins the forums in 2015, talks vex for a couple of years, learns a ton, and in 2017 moves on to do other stuff…
Forum software gets updated in 2019, everyone hypes it as the next best thing since the invention of sliced bread, Water Game seems possible again…
@Murf hears the hype and logs in to check out the new forums, stumbles on the Dankest Vex Memes topic, scrolls its first 232 posts in under 1 minute, and starts shaking his head…
@Murf decides that he'd seen enough of the utter chaos and that the world is coming to an end…
These days he spends his time watching gators swim in the Florida swamps as the less crazy alternative to this thread.
This is an engineering forum, if someone's wrong, I'm going to give them a technical explanation.