So I have been searching the forums and haven't found much yet related to the REC foundation's Live Remote Practice Match system so here goes:
We finally set up a space in our school robotics shop to do remote events and we were very excited to try out the remote practice match system but we have run into a snag.
The Problem:
The webcam connects correctly but it seems like the problem is with the controller. It loads a screen to allow me to connect to the controller but then gets an error when I press connect. Digging a little bit deeper it looks like there's an issue with the SerialPort. I've included a screenshot of the error as well as the developer console below: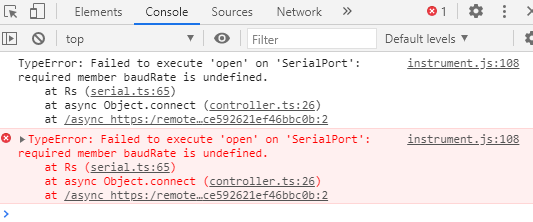 Things I've Tried:
Verified that the teams I am signing in with have been properly registered through robotevents
Verified multiple times that "Experimental Web Platform Features" is enabled and Chrome was restarted.
Verified that the firmware on the controller, brain, and receiver are all up-to-date. I literally watched my students perform the update.
I tested the system on Chrome running on Linux and Windows 10 and in both cases encountered the same error at the same point.
Any ideas how to get this working? Are we the only ones with these problems? Why aren't there more conversations and videos about people using this system for practice matches? If anyone could assist us that would be awesome!