Dear VEX Community,
Canada's first Signature Event, Mecha Mayhem, is taking place in under one month!
There are only a few spots left for teams to register! The deadline is January 13th. https://www.robotevents.com/robot-competitions/vex-robotics-competition/RE-VRC-22-7800.html#general-info
We are so excited to welcome the world to Calgary, AB. Our team has been working on this project for the better part of two years. Here's some last-minute information about our event:
To make the event as seamless as possible, there will also be complimentary shuttles to and from the airport, partner hotels, and tournament venue. Our partner hotels will have practice fields for teams to scrim and cheap rates at only $99 CAD ($75 USD) a night! (Please send me a message if you want to a shuttle to pickup/dropoff at the airport). There are also NO travel restrictions from the Government of Canada for entering/leaving the country.
The competition will have 2 divisions, 4 VEX Worlds spots (2x TC, 2x MS/HS Excellence), 20x of the coolest looking custom trophies, and a set of medals/lanyards for every team that competes!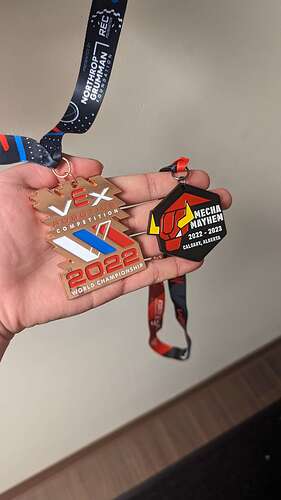 While you're at the competition, check out some of the several local tech companies showcasing their products and programs. Select companies might even offer internships. Furthermore, you might even see a certain Boston Dynamics robot dog wandering the event.
This is one event that you won't want to miss! For those teams that can't join us in-person, make sure to watch the livestream!
If your team requires some financial aid / registration fee discount to attend the tournament, please send me a DM.
Don't hesitate to message us if you have any questions or concerns about the event!
Sincerely,
210Y Robotics & Western Mechatronics Association