Just added to the VEX Website: 6P Sprockets.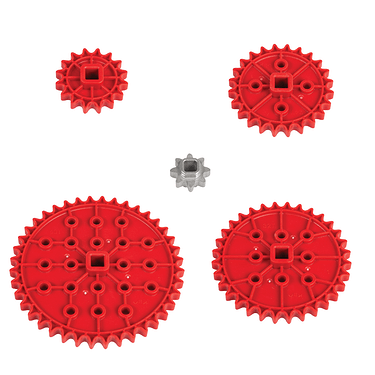 These various sized Sprockets were originally only found in VEX EXP kits, but now come in packs of either 4 or 8. They have a smaller diameter than the pre-existing High Strength Sprockets, which allows for the construction of smaller, more compact mechanisms.
Note that these sprockets are only compatible with VEX IQ Chain (which is now legal for use in VRC), and will not work with the pre-existing V5 High Strength Chain.
6P Sprockets are available for purchase now from the US vexrobotics.com website, and will be available internationally within the next few weeks.
P.S. Because I know someone will ask, the "P" in 6P is an internal reference for Sprocket Kits to refer to the chain pitch.
Lower Strength Sprockets - Chain pitch 3.75mm / 0.148" - Discontinued
6P Sprockets - Chain pitch 6.35mm / 0.25" - New used in EXP kits
High Strength Sprockets - Chain pitch 9.79mm / 0.385" - Still active