With the V5 limit of just 8 motors worth of power (even applicable for VEXU) more teams are considering sharing motors between multiple subsystems. There are various options for doing that using ratchets, differentials, or transmissions, but most are facing the same obstacle of extra power losses to friction due to the increased axle count and complexity of the build.
There are several solutions to reduce the friction and improve efficiency of such designs. One is to use partially threaded screws instead of square axles and another is to employ drilled out internal gears from the legacy 393 motors as bearings for the high strength sprockets and gears. The latter, in addition to reducing the friction compared to square axles, allows to have independently rotating coaxial mechanisms without doubling the friction penalty.
Legality of using internal gears outside of the 393 motors have been ruled and confirmed in the past seasons and, according to <R11>, any commercially available screws under 2" long and between M3 and #8 in diameter are allowed.
Partially threaded screws
They are available from multiple manufacturers in various sizes: https://www.mscdirect.com/browse/tn/?searchterm=partially+threaded+cap+8-32
To maximize the utilization of the smooth thread-free part you could drill into a flat bearing such that it holds the screw cap.
For more advanced use you could modify the screw to have threads on both sides:
Above is the sequence of steps (from bottom up) taking the 2.5" screw, cutting its cap off, and grinding other end to lock it in the vise. Then threading the smooth side with a #8-32 die, cutting it to legal 2" size and finally combining two of them into a long axle replacement with the aid of the standoff. Using blue threadlocker inside the standoff is highly recommended.
This method was used to build a custom hub. The "axle" both let the sprockets on the green inserts run smoothly and provided additional structural supports connecting chassis on both sides.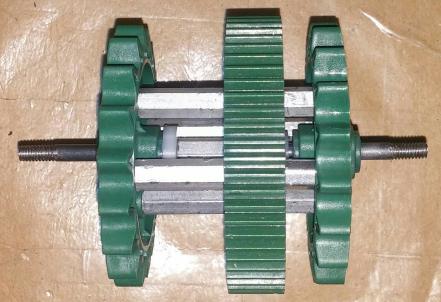 Drilled out 393 gears
Here is a picture of the 30T sprocket on a 393 gear bearing:


The sprocket was "drilled" with a standard screwdriver bit and now it fits both 393 gears and normal high strength 1/4" axles and inserts. Just make sure to drill it perfectly perpendicular to the plane of the sprocket.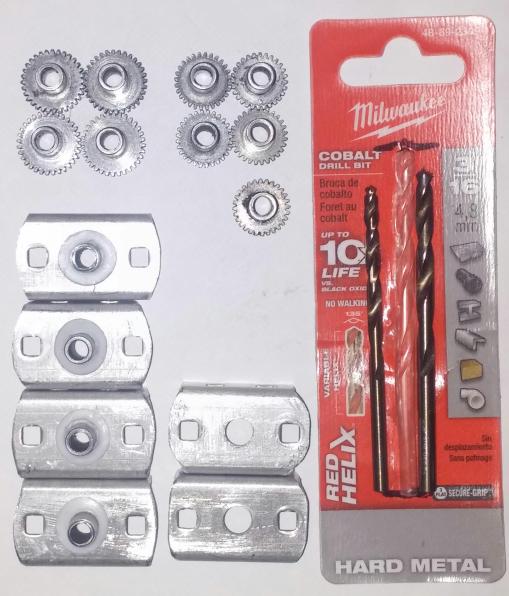 To drill 393 output gears you will need hard metal cobalt bits (4.0 and 4.8 mm) and an access to a drill press. In theory, you can do it with just a titanium bits and a handheld drill, but it will take you 10x longer and you will have to re-sharpen the bits countless number of times.
The best drilling sequence seems to be to, first, drill with 4.8 to the bottom of the square hole, then use 4.0 to drill the gear through and finally use 4.8 to enlarge the hole to its full size.
There are several ways to attach 393 gears to your structure, but the best seems to be the modified c-channel couplers, which let you mount them almost everywhere. You can use conical sheet metal drill bit to make holes precisely centered and matching gear diameter with a final touches of the round file.
Few more pictures of the parts:
More details of the differential built using drilled out 393 gears can be found here: Differential transmission - power takeoff from the drivetrain motors