Well, 2020 has been an interesting year to say the least. We've seen everything from a Global Pandemic to Flying Grain-silos.
We wanted to end off this year with something good, so we decided to make a reveal video of our current bot, "Opportunity".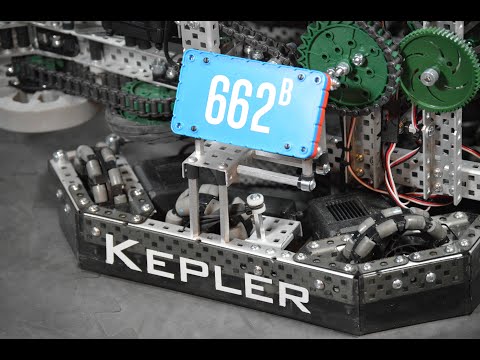 Specs

---

600rpm Shooter (1200 Front, 600 Back) (Upper Rollers)
600rpm Indexer / Sorter (1200 Bottom, 800 Middle, 600 Back) (Lower Rollers)
600rpm Intakes (900 Front, 600 Back)
200rpm 3.25" X Drivebase

Line Sensors to detect Ball Positions,
Optical Sensor to detect Ball Color.
Combine that info with a big of magic, mountain dew, and headaches, and you have Auto Indexing & Sorting

3 wheel Odometry using Rotation Sensors + 2.75" Omnis

---
Credits

---

Robot built & programmed by

Patrick B (@Pat.Chet.02)
Josh G (@zedsdead_662b)
Clarke K
Ben D
Will S
Zak G

---

Design inspiration from

Hood - 80708X "Exobytes"
Portable Backboard - 2602H "Hydra"
Ball Sorter / Ejector - 99999V "Mechanical Advantage"

Odometry Math - 5225A "Pilons"

---
Social Media

---

---
We didn't do this all on our own though, so here's a special thank you to everyone in both the Short Circuit, and Apex Alliances for being there to bounce ideas off of.
See you at Worlds with "Curiosity" (and / or "Perseverance")