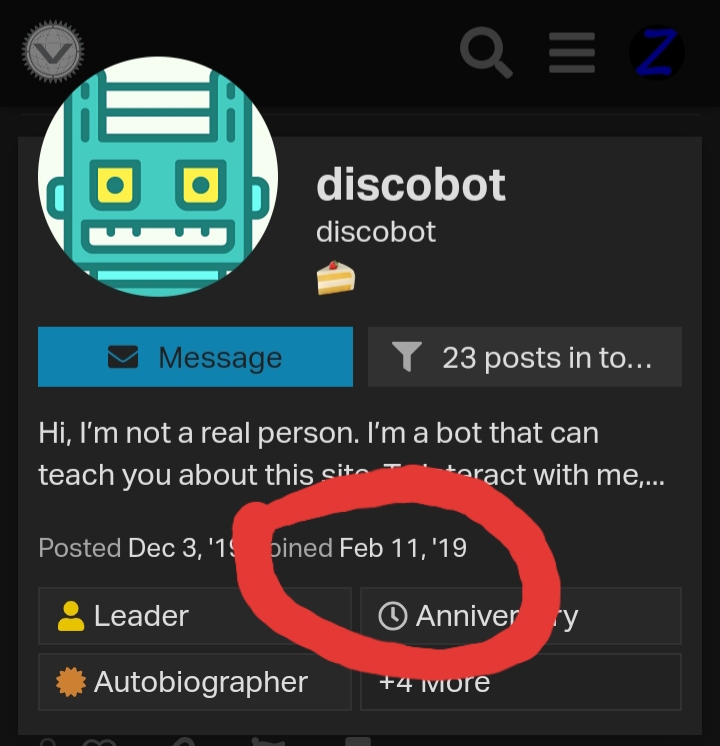 HAPPPPPPPPPY CAKE DAY TO YOU @discobot HAPPPPPPPPPY CAKE DAY TO YOU HAPPPPPPPPPY CAKE DAY HAPPPPPPPPPY CAKE DAY HAPPPPPPPPPY CAKE DAY HAPPPPPPPPPY CAKE DAY TO YOUUUUUUUUUUUUUUUUUUUUUUUUUUUUUUUUUUUUUUUUU
Did that wrong.
@Discobot fortune
Is it your birthday?
I believe DRow learned from past mistakes and disabled that
See: That Moment When
Cake day is just the anniversary of an account being made, not their birthday. A full cake means it's someone's birthday.
they're just too lazy to make a robot that actually even looks like it can high hang
this meme is way too old(no pun intended)
Um…
I agree… lol
Back in the olden days when we actually had paper match schedules and in-person competitions
It's discobot. He's a robot. His birthday would be his cake day, too.
Meaning he would not have a birthday in the first place since robots cannot be born.
Discobot could have a cakeday and no birthday. But I guess you could call it a "creation day" or something
not exactly, that was only 2 years ago but its still everywhere on the forum and everybody knows it
It's true that that post is on the forum and almost everyone knows it, but everybody doesn't talk about it anymore. I remember someone saying this a while back (but I can't remember who) - We don't respond to posts or topics that are at least a few months old unless it's necessary.
Speaking of birthdays, it's @Xenon27's cake day too! Happy cake day, Xenon!