Great! Can't wait to see how it turns out!
yes. except that it's made of edr parts

and u might have to do some extra gearing to get it to work on one motor
Huh. I've never rubber banded my arm that way. I just put two pins on each side and it works fine.
Rubber bands are literally OP. If you don't have rubber bands on your DR4B, you are simply doing it wrong. (Mae this isn't passive aggressive lol I'm just saying fax)
If you plan on going down the Douglas le Reverse Four bar route, I would highly recommend reading through this: DR4B Tutorial by 333A
But I would also recommend not building a DR4B for rise above, as it is much higher than it needs to be.
It's called triangle banding. It is more consistent than linear banding.
How so? Enlighten me to your rubber banding preferences.
I shall now plug my excellent notebooking skills:
Triangle banding:

Linear banding: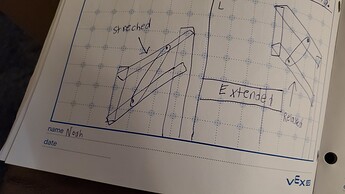 I heard that the point is to have the bands make an equalatireal triangle at the peak of the arm,for triangle banding. But the main i da ea for both is to have the rubber bands be farther apart at the bottom, ad very close at the start. That way the arm will be "wanting" to go up.
That is the point of rubber banding a lift in general. The point of using a triangle instead of straight banding it is so the rubber bands provide constant torque on the lift. With straight banding, as the lift goes up, the rubber bands get closer to one another at the top and have less torque on the lift. Though the bands do get closer to one another with triangle banding, the change in angle will keep the torque on the lift more consistent if done right. See the original UTRB post for a more in-depth explanation of why this works.
Hi @333A!
I gotta say, your tutorial on DR4Bs definitely was a life-saver. Thank you so much for spending your time contributing to the community and making that public for everyone!
Imma use 2-3 motors on it
Seriously???
Seriously???
You don't need more than 2 motors on a DR4B. If you don't have to lift heavy loads, you can make a 1 motor DR4B that works fine using V5. I have no experience with IQ motors so take this with a grain of salt, but I would think that since you only have 6 motors to work with you'd want to use only 1 on the lift if possible.
It was not related to the conversation.
You can disable email notifications by going to your profile → Preferences → Emails.
As mentioned in other threads to other young members, there is a certain level of professionalism that is expected in these forums. Please take the time to be respectful, keep comments on topic and to use proper spelling, grammar and punctuation.
No one is going to be giving you a grade on the above. When an honest effort is met with the occasional misspelled word, no one will say anything. However when your messages are off topic and are filled with spelling and grammar errors or shorthand that should be reserved for text messages with your friends, it will likely get flagged.
oh hey noah! I was the driver from 44844B, the 4 rocketeers! remember me?
Hey @BritBoi101 how's it going? That makes the third person (I think) I've seen on the forums from Wisconsin! It really is the best region.
let's go into a private message as to not clutter up this thread lol.
I am doing a Ferris wheel type robot . It can grab 6 risers at a time. Did anybody else think of doing this too?