What sensor is your team using for the pooper in change up?
Vision Sensor
Light Sensor
Line Follower
Vision is going to be tricky, but we're going to try to use it to index the balls in the goal in front of the robot or the light sensor to sort. If are able to get the vision sensor to work, the line follower would be used as a limit switch along with the data about the incoming balls.
I don't think line tracker and light sensor can detect color, so those won't be beneficial to pooper autosort since you can't detect the colored balls. Vision sensor on the other hand is pretty subjective to light, and isn't supported by pros, but its probably the best choice for now.
The upcoming V5 optical sensor might be the best option in the future as it can detect color.
yeah sorry about that, i guess my teammate gave me the wrong info
please don't call it that
Agreed, it's a "Line Sensor", not a "Line Follower".
I was talking about a pooper, but ok…
Its a pooper. Pooper is what its been called since day 1. Is that unpreofessional? Sure. Are professionals professional when nobody is watching? Probably not. Maybe cody can answer.
Actually they are called "Line Trackers"

Does the Vision sensor really do a good job to sort the balls? When I was using it for tower takeover it would give me all kinds of readings or no readings at all.
I have a feeling the color sensor will be coming very very soon, although I don't think it's a good idea to trust VEX with time management.
How does anyone use the vision sensor when everything placed within 6 inches of the camera just becomes a black blob of shadow? And the vision sensor accuracy is heavily dependent on lighting conditions; if its just a tad bit too dark everything just becomes black.
You can have the vision sensor facing downward while intaking, and the sensor could cache the colors of all balls intaked and remove the cache of the balls outtaked. This sounds like one of the most effective solutions with the vision sensor, but sounds relatively unreliable.
hey, since the 8-wire expander came out, you can have practically infinite VEX flashlights running at 2/3 power pointed at the balls.
I'm kind of being sarcastic, but I don't think there's another way to change how much light goes through the sensor. I know that colored filters on the vision sensor were ruled legal, but I don't think that would help when no light is coming at all. As dumb as this sounds, I'd be interested in a V5 flashlight .
If you make the area the line tracker is tracking have nearly no light influence, you can possibly make the line trackers work perfectly in any light condition.
We had trouble getting the old flashlights working with v5 last year, but if we could've implemented them, we would've. Turns out we didn't end up even using vision, but being able to provide a consistent light level is huge. A V5 flashlight might only have 1 viable application, but that single application could be quite valuable.
If you want to use vex light sensor with flashlight for ball color detection, you gotta read this first:
The vision sensor is really reliable if you code it correctly, I used it in TP with great success, and USC used it to aim in this skills run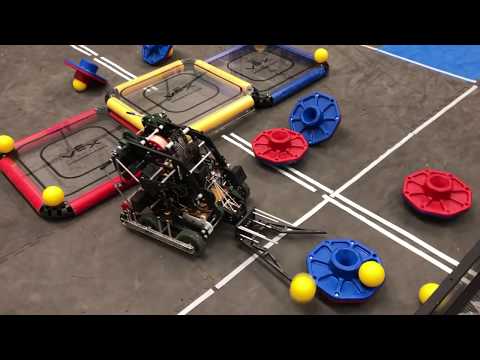 It may be reliable in some competitions, but I heard many robots being unreliable at worlds due to bad lighting. Is it worth the risk? Short term maybe, long term probably not.