With the release of VEXcode V5 Text on Monday this week, we added a number of features to allow less experienced programmers to get up and running with text based programming quickly. One of the key features added was the Graphical Robot Configuration tool. This tool, brought over from the VEXcode Blocks software package, allows users to quickly create devices to be used in their project. The goal of this feature was to be additive to the VEXcode Text experience, but we may not have communicated this feature as well as we could.
Thanks to another implemented feature, the User Feedback tool - this new User Feedback tool sends messages to an internal Slack channel that allows the entire VEXcode development team and VEX management team to review every single piece of feedback submitted. Thanks to this new User Feedback too, we heard from over 60 users within a 48-hour period after release of 1.0.
The #1 type of feedback received was related to user confusion with the Graphical Robot Configuration tool and how it impacted more advanced users who prefer more control over their projects. Our goal with the inclusion of the Graphical Robot Configuration tool was never to prevent users from creating their own device instances or force them to only use 2-motor Drivetrains, but rather to provide assistance for beginning users to get experience with text-based programming without being daunted by a blank text editor and an API reference document. While the team feel that we succeeded in this mission, and will continue to improve, iterate, and enhance all aspect of VEXcode, the feedback we received was loud and clear that we did not communicate how we envisioned these features being used to users well enough.
With that being said, the VEXcode team has heard our user community and wanted to respond as soon as we possibly could. The VEXcode team will be releasing VEXcode V5 Text 1.0.1 today - this release will add a feature to disable the Graphical Robot Configuration tool and allow users full control of their projects. By enabling an "Expert Robot Configuration" flag from the project settings, users will be able to disable the Graphical Robot Configuration tool and have full write access to the "robot-config.cpp" and "robot-config.h" files. This will allow more advanced users the ability to create and configure devices as they have in previous versions of VEXcode Text. Users will also be able to delete these configuration files and create their own program structure as they see fit.
New Settings:

Expert Robot Configuration Enabled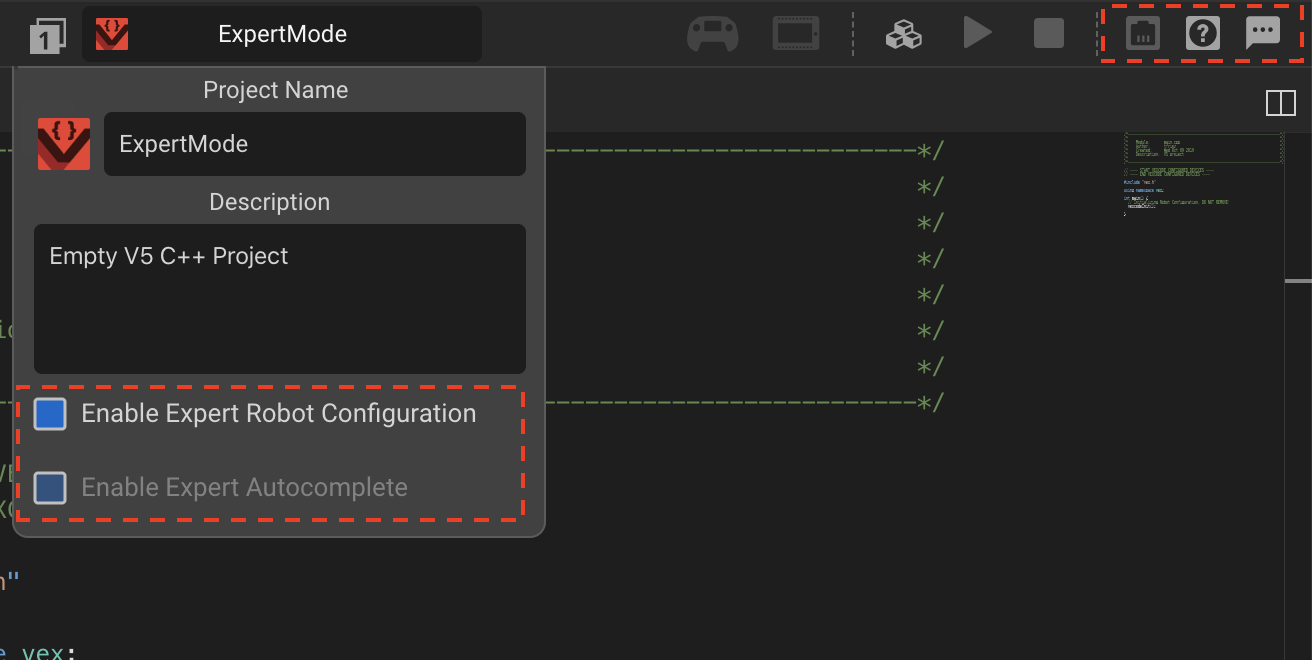 Robot Configuration Files in Standard Mode

Robot Configuration Files in Expert Mode

Over the coming months, the VEXcode team will be continuing to enhance and extend the functionality of both VEXcode Text (including an IQ version) and VEXcode Blocks. Every feature we add to VEXcode will take into consideration all feedback we receive, including via the VEXForum and the User Feedback tools inside of every version of VEXcode. We look forward to continuing to develop the best software tools to allow all users to experience success with their educational robotics experiences.