Hi! My name is Dave Gershman and I'm happy to announce the creation of a program that I've been working on for nearly a year now. This is the Vex Virtual Builder, a new way to prototype your VEX V5 robots.
The Vex Virtual Builder (VVB) is a software that you can download to start prototyping and building virtual robots that you can later design in the real world.
Prototyping anything is meant to be a quick and simple process to achieving an attainable outline for whatever you make. There currently exists no simple and modern solution to doing this virtually for VEX V5 robots.
As opposed to the tedious set up process required to organize VEX parts in industry standard CAD software, the VVB does this for you. With tools that are exclusively made for dealing with VEX V5 parts, you'll waste no time in getting started on your new designs.
Main Features
Extensive Parts List
The VVB includes dozens of familiar parts that builders can use, with more coming as development continues!
Intuitive Design
The VVB is designed to be used by anyone, the build process is meant to both improve and mimic the real world building experience.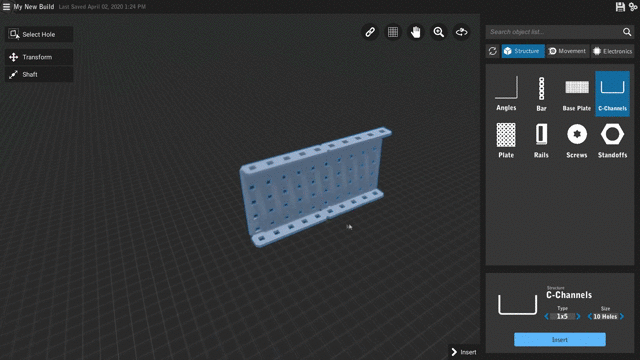 Specialized Build Tools
With tools that are made for the VEX environment, building a VEX robot has never been easier.
Apply for beta!
The future of the VVB rests on this community and the feedback I receive. The VVB is made for VEX users by a VEX user. Any feedback that you would like to provide is appreciated greatly! There is current no set release date but I'm excited to say that private beta applications are open right now
and you can apply here.
If you would rather not apply, a public beta release is coming very soon, stay updated to know when!
Thank You!
That's about it for now, thank you for reading this post! This is the first of many in regards to the VVB! More updates coming soon! The best way to stay updated on the VVB is by checking my account on this forum and the official youtube channel.
Let's make this into something every VEX builder can use as another tool to creating the best VEX robots for years to come.
If you have any more questions please do not hesistate to ask them below!
Once again, thank you!
The VVB is not an official VEX Robotics software, it's currently just something I made as a new prototyping tool for robot builders.